Microdermabrasion & Peels
Microdermabrasion –
There is another alternative to deep chemical peels. Microdermabrasion delivers a controlled stream of crystals over the skin through a hand piece by gently polishing the skin and removing dead skin cells, oils, and other build up to improve many skin conditions. This is a non-sergical procedure designed to reduce the appearance of fine crows feet, fine lines, wrinkles, pore size, superficial age spots or pigmentaion, sun damage, acne scarring, and other sign of aging. For optimal results, a series of 12 are suggested.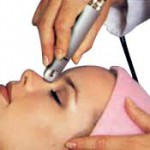 We Remove Milia
(w/ Natural Herb Mask)
C

all for details!
Micro Stamping
An anti-aging treatment for the skin where a pen device delivers tiny needle pricks to stimulate the skin's natural healing processes, which minimizes wrinkles and improves the appearance of scars with minimal recovery time. The slight stimulation of the pen causes the growth of collagen, which is essential to repair damaged skin. Micro Stamping is essential for the following : Anti-aging, acne scarring, large pores, hyper pigmentation, wrinkled skin, sagging skin, stretch marks, skin texture (all skin types). Micro Stamping can be done on any part of the body, including, face, neck, chest, arms, hands, stomach. Much better, cost effective, and faster recovery than any laser treatment!! Individual needle stamp is used per customer – all sterile. Please call for additional information and pricing. 
Real Client results (Picture)- Before/ After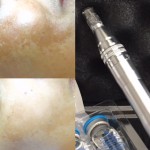 Refresh Berry Peel
Berry Peel is packed with essential nutrients and vitamins. It increases cell turnover rate, and promotes healthy production of collagen and elastin, perfect for smoothing out wrinkles, lines, and improving tone and texture. This berry peel provides a high concentration of beta-carotene, Vitamin A, C, zinc, and potassium, which fight against free radicals and damage from sun exposure. Safe and Natural ingredients. 
Apple Peel
Anti-Aging treatment with very quick and easy results that refresh, brighten, rejuvenate and firm skin. No down time, no redness, and makeup can be applied after treatment. 
Cocktail Peel
Individual, unique and customized peel build for your skin needs. Treatment can be combined with oxygen treatment, or another facial. Reduced pore size, dark spot and wrinkles, all while unceasing hydration for younger looking skin! No down time, no redness, no flakiness, no irritation! Just glowing and youthful skin! Makeup can be applied the next day. Face/Neck/Décolleté. 
Oxygenation Peel- Medical Grade
The use of oxygen in skin care is well known for it's healing properties and anti-bacterial benefits. The Societe Oxygenation Peel is a unique treatment specifically formulated here at The Clinic. A 3 in 1 treatment, it combines the Societe Oxygenation Kit for collagen production and cell turnover with a deep thermal cleanser and antioxidant enzyme mask, giving your skin everything it needs for a fresh, dewy complexion. This treatment is best for an instant oxygen and hydration boost; Creates a fresh, dewy complexion; Soothes dull, sensitive or inflamed skin. This is a gentle, hydrating treatment suitable for all skins types. You will get immediate results with no downtime. Skin will be incredible and plump! 
AHA – Glycolic Peel w/ Peptide Stem Cell
Alpha Hydroxy Acid (AHA) Peel & Gylcolic Acid Peel is very effective and highly beneficial for skin treatment. The build up of dead skin cells causes the skin to appear rough, dull and aged. The treatment helps to refine the surface of the skin and dramatically increase skin firmness, radiance, and clarity. Helps reduce fine lines, enlarged pores, inflammation, acne, hyperpigmentation and heals the skin. 
Aqua Marine Peel w/ Caviar
Restores clarity, texture and elasticity. Visible difference in firmness and wrinkle reduction. Aqua Marine w/ Caviar gives luminous skin. A unique blend of lactic, glycol and the infusion of the sea combines with latest advanced technology for visibly smoother, firmed and toned skin. Cell renewing and antioxidants. Anti-inflammatory and firming properties. Strengthens skins immunity. 
Modified Jessner Peel 
Combined with 3 components of acid. Great for any type of skin – tired, sluggish, aging, acne, pigmentation, light rosacea w/ capillaries. This peel has medium depth. After this peel, skin won't be dry, red- just perfect, glowing, hydrated, more uplifting. 
Mandelic Peel
Great for every type of skin – teens and adults. Kills bacteria, fades dark spots, uneven skin tone, repairs sun damage. Not aggressive type of peel. 
TCA Peel 10%/ 15%/ 25%
A TCA peel is used for reducing brown spots and age spots. In addition, it drastically improves texture of leathery, sun damaged skin and imparts a glow to the face. Improves melasma, treats acne, scarring and reduces fine lines. Immediate results are visible after the first treatment. This is a strong treatment that will need approximately 7 days to recover. Peeling and redness of the skin will occur. For optimal results, 6 to 12 treatments are suggested. From $225+ (depends on how many layers applied)
Salicylic Peel (20%)
Intensive Cell Renewing – A powerful treatment to fight acne and wrinkles. Lightens pigmentation and evens overall skin tone. Visible improvements in superficial lines and texture. Acne/acne scars become less noticeable. Reduce oils, bacteria and inflammation. Start from $145+ (depends on skin type)
Stem Cell Peel w/ Peptide
Stem Cell Peel Treatment reduces wrinkles, increases firmness of the skin, enhances skin texture and tone. It helps in reversing the aging process, causing total skin rejuvenation. Skin appear more vibrant, revitalized, and regenerated. 
Pumpkin Peel
Pumpkin contains rich enzymes that are great for all skin types. Gives skin a bright and refreshed appearance. Pumpkin is loaded with fruit enzymes and alpha hydroxy acids (AHAs), which increase cell turnover – brighten and smooth the skin. In addition, Pumpkin contains the highest concentration of salicylic acid (AHAs) than any other plant. The natural enzymes found in pumpkin are a great addition to exfoliating the skin and therefore, amazing for treating a dull complexion, aging skin and pigmentation. 
Light Therapy
Photo Facial IPL (Intense Light Therapy)
call for appt: 310-902-7598
*** Cancellation/ No Show Policy:
We understand that there are times when you must miss an appointment due to emergencies or obligations for work or family. However, when you do not call to cancel an appointment, you may be preventing another client from getting the needed treatment. Conversely, the situation may arise where another client fails to cancel and we are unable to schedule you for a visit, due to a "full" appointment book. If an appointment is not cancelled at least 24 hours in advance you will be charged a $65 fee on your re-scheduled visit.
SaveSave
SaveSave
SaveSave
SaveSave
SaveSave
SaveSave
SaveSave